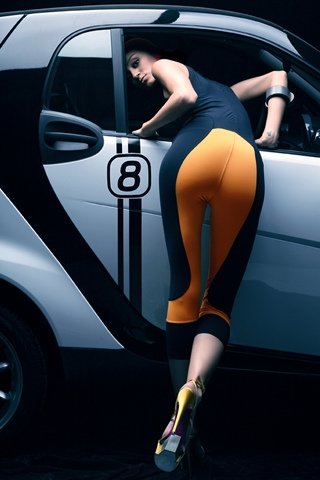 The waving of the flag of France signals the start of the adrenaline rush that is the 24 Hours of Le Mans, the most famous motor race in the world, a gripping, turbo-charged test of speed, skill, and endurance. It is always a question how many drivers will finish Le Mans, but in this novel the bigger question is whether or not Tygre, an unlikely player in a high-stakes game of intrigue, will be around when the final flag drops.
The 24-year-old supermodel and spokesperson for cosmetic giant La Dolce Vita has undergone a heady tour of self-discovery on her sudden rise to fame and wealth, but she could never have predicted it would all come to a head at Le Mans, where she becomes a reluctant pawn in an FBI terror-busting operation.
As the former lover of a suspected terrorist and the current girlfriend of Bradford Harrington, II, son of the U.S. President and three-time winner at Le Mans, Tygre finds herself deeply embroiled in the FBI's efforts to defuse an elaborate plot against President Harrington and other foreign heads of state. To fulfill the mission and protect thousands of potential victims, she is forced by her FBI handlers to cut all ties with Brad Harrington, the love of her life, and reignite the flames of passion with former consort Khalil Karim, a wealthy Arab playboy and suspected mastermind of the terrorist plot.
For Theresa (Tygre) Topolska, the assignment is not only a daunting one, but it also threatens the attainment of her one true goal in life: to forge a lasting relationship with a man who values her for herself. From her earliest relationships in her native Poland, true love has seemed unattainable for the crystal-blue-eyed beauty. Her own mother was a schemer who had little use for Tygre's beloved father, Adam, and perhaps in over-compensation, Tygre's youthful affairs reflected a skewed sense of values concerning sex, love, and commitment.
A forbidden same-sex encounter at the Warsaw convent where she was sent following her parents' divorce leaves her scarred from the outset, and an illicit romance with the dashing and much older architect, Roman Zajda, gives Tygre her first dose of heartbreak. That pain sends her reeling into the arms of Sir Ari Beafetter, the charismatic billionaire owner of LDV, who becomes Tygre's boss, mentor, and lover. But Sir Ari soon reveals a perversely wicked side that teaches Tygre that things – and people – aren't always what they seem.
Her liaison with Lloyd Owens, a luster-lacking U.S. Senator, whose appearance is as rumpled and disorganized as his life, proves to be a turning point in Tygre's romantic timeline. Her rejection of the senator's bizarre marriage proposal strengthens Tygre's resolve to become an active participant in the game of love—she will no longer wait to be chosen. She vows to find true love or renounce relationships all together.
When the delectably exotic Khalil Karim enters Tygre's world, he turns it upside-down…and she finds her vow to herself all but forgotten. Tygre has never met a man so confident or debonair, and the fact that he is a Muslim only adds to his mystique. Tygre becomes so captivated that she momentarily puts her strict Catholic upbringing aside, swept up in a wave of passion that astonishes her with its intensity. But, when she discovers that Karim's sexual appetites are more various than she could have dreamed and that his involvement with a number of so-called "charities" might be a cover for illicit activities, she severs all ties with him.
When Tygre meets Brad Harrington, she begins to believe she has finally found "home." Harrington is as stately and honorable as he is handsome. He is the son of the United States President, and he seems drawn to Tygre for all the right reasons. She in turn is determined to keep him in her life. But she is haunted by her past with Khalil and terrified that her association with him will jeopardize her chance at true happiness.
When the FBI identifies Tygre as the one person who has had intimate relations with both Khalil Karim, suspected terrorist, and Brad Harrington, the President's son, both of whom are competing at the upcoming 24 Hours of Le Mans, Tygre is given no choice. She must cooperate with the task force and use her unique vantage point to help the agents get to the heart of the terror plot, or risk jail time for her part in a bit of insider trader engineered by Sir Ari. Tygre must summon her own courage and endurance – Le Mans-style – to stay in the race, outwit the terrorists, and get herself back with the man of her dreams.
While Brad Harrington jousts with Khalil Karim toward an explosive showdown on the Le Mans Raceway below, Tygre struggles to free herself from her captors in a careening helicopter high above. To succeed, both will have to carry out actions they never would have thought themselves capable of. However, as The Racing Heart makes clear, the price of love is an exacting one.